Literary and Historical Enrichment
HIGHLANDS HISTORICAL MUSEUM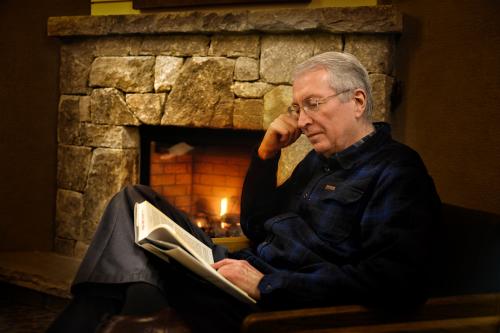 The Highlands Historical Society's Historic Village is located at 524 N. 4th Street in Highlands, North Carolina. It is composed of (1) the Prince House, (2) the Highlands Historical Museum and Archives, and (3) the Highlands Sanatorium Tent or Bug Hill Cottage. The Elizabeth Wright Prince House is the oldest existing house in Highlands, built in 1877 by millwright Arthur House, and serves as a living history museum. It was placed on the National Register of Historic Places on April 17, 2017.
The Highlands Historical Museum and Archives was originally constructed in 1915 on Main Street to house the Hudson Library, one of the oldest libraries in the State, and was moved in 2002 to the south side of the Village to serve the community as a state-of-the-art museum and archives.
The Highlands Sanatorium Tent was one of 60 open-air cubicles built in 1908 at today's Recreation Park for patients under the care of Dr. Mary E. Lapham, whose TB sanatorium was one of the first in North Carolina. Although moved to Chestnut Street when the sanatorium ("Bug Hill") burned in 1918, it was returned to its original site in 2006 to memorialize Dr. Lapham's role as a devoted savior of many Highlanders from the most virulent and dreaded disease of early twentieth-century America. Click here for more information. 
HUDSON LIBRARY
Open to the public, our Library serves residents and visitors with the Latest Fiction and Nonfiction best-sellers, mysteries, literary fiction, audiobooks, DVDs and Blu-Rays, Music, current Newspapers and Magazines, free Wireless Internet Access free Notary Services, Comfortable Reading Room with Fireplace, Large Community Space for Private and Nonprofit Groups, Public-Use computers and printer, Technology Assistance, Fun Children's Play Room and Story Times, Educational Computers and Tablets just for Kids, Access to eBooks, eAudiobooks, Digital Magazines, streamed movies and a Local History Collection. Click here for more information.
HIGHLANDS WRITERS
The Highlands Writers group is a longstanding collective of published and unpublished writers in the Highlands area that meet weekly to share ideas, provide feedback, and practice their writing craft. Tuesdays; 3 - 5 p.m. at The Bascom. Click here for more information.
THE LITERACY & LEARNING CENTER
The Literacy & Learning Center is a nonprofit whose mission is to enrich lives and expand the knowledge of children, adults, families in Macon County, NC through diverse educational programs. Click here for more information.
BOOK CLUB
A spirited group of literary seekers gather on a monthly basis to share their experience with literature. At The Bascom Monthly, Third Thursdays; 3 p.m., May - October. Click here for more information.