Winter Events
Holidays in Highlands
TRIM OUR TOWN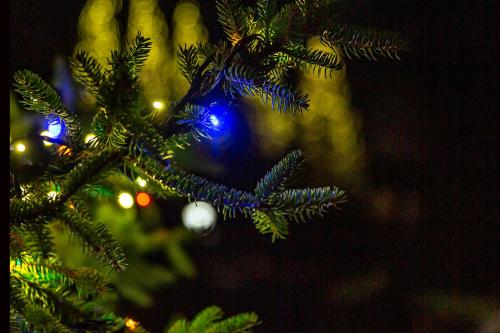 Our Christmas Season launches with Trim Our Town events including Lighting the Park Celebration and the Arrival of Santa and Mrs. Claus at Kelsey-Hutchinson Founders Park. The evening is set amongst the softly lit trees of the park and the Town Ice Rink, with music, carol singing, hot chocolate, cookies and the reading of the Christmas Story. And this is the launch of the Trim Our Town Storefront contest. The contest is a People's Choice award and you the voter can win by participating.
The stores are decked and full of the most endearing gifts for everyone on your holiday shopping list. Spend the day shopping, lunching with a special holiday drink and end the day with ice skating, holiday bliss!
SANTA IN THE PARK
If you don't get a chance to talk to Santa at the Park Lighting Celebration, don't despair. He'll return to Kelsey-Hutchinson Founders Park every Saturday.
Everyone is welcome to speak with the Jolly Old Man, regardless of age or girth, and, if you've been good all year, you can gently pull on his beard to ensure that you're talking to the Real Deal.
OLDE MOUNTAIN CHRISTMAS PARADE
Everyone is invited to the Olde Mountain Christmas Parade! It's a celebration that showcases the town's deep pool of community spirit. It's not uncommon for the parade to boast over 80 entries.
There's a warm, homemade feel to the Highlands parade, since it's staged entirely by local groups, churches, businesses, fire departments and bands of neighbors. It's all delivered with pride, sparkle, and more than a little bit of humor.
You'll find handmade floats, marching bands, dancing garden ladies, real camels and (perhaps real) Wise Men, dogs that amble more or less in formation, fire trucks, Smokey the Bear, classic cars, horses, the Highlands High School Homecoming Court, local politicians, and, of course, Santa.
HANDS CHRISTMAS DINNER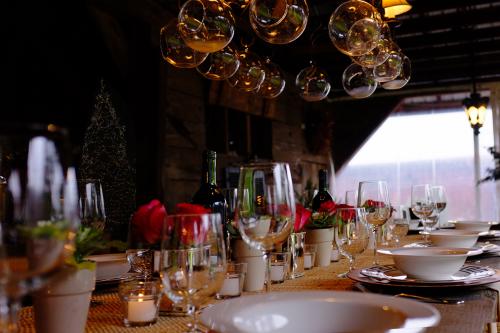 If you'd like to create a unique Christmas memory and envelop yourself in the warmth of a compassionate community, plan to attend the HANDS Christmas Dinner, slated annually for Christmas Day.
Run entirely by volunteers, with food prepared by local chefs and their staffs, HANDS (Highlands Area Non-Profit Donation Sharing) raises funds for local charities and provides a festive Christmas meal for all of its patrons. 
Holiday music fills the room and decorations adorn the tables and walls. Guests will discover a buffet table laid out with glorious dishes – turkeys, hams and tenderloins, shrimp and grits, squash casserole and scalloped potatoes, and all the traditional sides.  This is Highlands at its most delicious, its most festive, and its most infused with holiday cheer.