Holiday & Winter Events
It is that time of the year to take things slowly. Breathe in nature's sweet fragrance, enjoy serene and joyous moments with family and friends, and let the magic of the season surround you in Highlands. Experience the wonder of walking behind an icy waterfall, outdoor ice skating in our park, snow tubing or skiing down a mountain slope. No matter how you immerse yourself in the season, a crackling, stone fireplace and a cup of hot chocolate surely is near-by. 
Take a glimpse at Holidays in Highlands through this video and mark your calendar for our seasonal events!
All events are free and open to the public, made possible by the Highlands Chamber of Commerce/Visit Highlands, NC. Pets are welcome but should be leashed.  For more information, call the Highlands Welcome Center at 828-526-2112 or email events@highlandschamber.org.

Light Up the Park & Main 
Sat., Nov. 26, from 6 to 8 p.m. in Kelsey-Hutchinson Founders Park
Anticipation will fill the mountain air as the community gathers in the park to enjoy cookies, hot chocolate and a program that includes live music and carols led by Silly Ridge, a display of children's artwork and a reading of the Christmas story by Rev. Randy Lucas of Highlands United Methodist Church. Then, Santa arrives atop a firetruck to usher in the lighting of the park and Main St. Watch the park come alive with thousands of holiday lights that will remain throughout the season, along with ice skating and photo-op fun.
Trim Our Town 
Voting begins Nov. 26. Winners will be announced Dec. 24.
This storefront decorating contest draws creative entries along and near Main St. to be enjoyed by all. Anyone may vote online for their favorite display for a chance to win a gift card. Better yet, holiday shoppers can make everyone on their list happy with gifts purchased from local Highlands merchants. Prizes are presented to local businesses who win a People's Choice Award.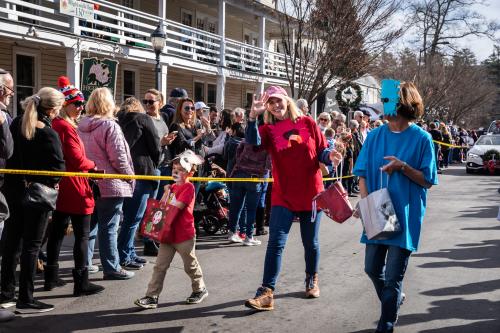 Highlands Christmas Parade 
Sat., Dec. 3, from 10:30 a.m. to Noon along Main St.
Spectators will see marching bands, llamas and camels, creative floats and – of course – Santa Claus parading on Highlands' Main Street as part of this more than 40-year tradition. Don't miss the beloved dancing ladies from Mountain Garden Club leading the way at 10 a.m., before the parade begins. 
Those who want to participate in the parade must submit this completed application to the Highlands Chamber of Commerce/Visit Highlands, NC no later than Nov. 17. To apply and for more information, email events@highlandschamber.org or call 828-526-5841.
Santa in the Park, Letters to Santa & Photo Opportunities
Saturdays in December in Kelsey-Hutchinson Founders Park
Santa will appear in the park each Saturday (weather permitting) to hear wishes from children and pets of all ages. 
Though subject to change, here's when you can visit with Santa in the Park:
Fri., Nov. 25 – 11 a.m. – 3 p.m.
Sat., Nov. 26 – After the Light Up the Park & Main event
Sat., Dec. 3 – After the Highlands Christmas Parade, ~12:30 p.m. – 3 p.m.
Sat., Dec. 10 – ~11 a.m. – 3 p.m.
Sat., Dec. 17 – 11 a.m. – 3 p.m. Those who desire a Santa visit with their pet are encouraged to select this day.
Santa will also periodically sneak into the park to retrieve letters placed in a special mailbox from the North Pole! Stop by the park any time to drop off letters or see the festive decorating of Santa's sleigh by his elves -- and be sure to take a few photos! 
Snow Fest at 4118
Sat., Jan. 28, & Sun., Jan. 29, in Kelsey-Hutchinson Founders Park
It's back and better! Bring friends and family for guaranteed winter fun (courtesy of snow blowers, if needed) in the park. A snowball toss, a merry-go-round, a snow slide, s'mores, "snowga" (a twist on yoga) and more will be waiting.