Spring 2024
Spring in Highlands is when Mother Earth awakens and unfurls with unique flower and fauna as the mountains green from the valleys to the peaks. Click here to learn more of what you can experience in a Highlands Spring and join us for our season of events.  
Our complete event calendar may be found here.
Plateau Pickup
April 13, 2024
8:30 a.m. - 12 p.m. 
Each year, the Highlands Chamber of Commerce/Visit Highlands leads the area's "spring cleaning" by hosting Plateau Pickup. This year's event will take place Saturday, April 13, from 8:30 a.m. - 12 p.m.
Volunteers will begin at Kelsey-Hutchinson Founders Park on Pine Street, where they will receive their geographic assignment. Groups, individuals, and families are welcome!   
A light breakfast and lunch will be provided, and participants will receive a free t-shirt. Volunteers will also receive gloves, pick up tools, safety vests and garbage bags.  
The project includes parts of U.S. 64, N.C. 28, N.C. 106 and streets in downtown Highlands. Plateau Pickup is part of Litter Sweep, the N.C. Department of Transportation's biannual statewide roadside litter removal initiative traditionally held the last two weeks of April and September.  
To participate, send an email to events@highlandschamber.org or call 828-526-2112. 
Bear Shadow Music Festival 
May 11 - 12, 2024
The Highlands Chamber of Commerce/Visit Highlands is delighted to support Bear Shadow Music Festival, a weekend of celebration that highlights world-class music acts and outdoor experiences as we emerge from winter's hibernation.  
Brought to you by Highlands Festivals, Inc., the two-day festival will take place at Winfield Farm. Bear Shadow is a sister event of the bespoke Highlands Food & Wine Festival.  
High Style 
May 17 - 19, 2024  
A Celebration of Art, Cuisine, Fashion & Music 

Interactive art demonstrations and classes, culinary experiences, a fashion show, musical performances, pancakes and prosecco brunch and so much more. 
Volunteer Fair
June 6, 2024
11 a.m. - 2 p.m. 
Are you looking to get involved with a Highlands community organization? Are you part of a nonprofit agency that could use some helping hands? If so, then mark your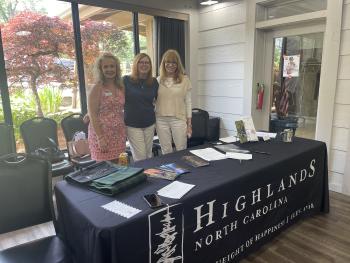 calendar for the annual Highlands Volunteer Fair. 
This free event will bring together those willing to volunteer with the nonprofit organizations that need them. It will take place Thursday, June 6, from 11 a.m. - 2 p.m. at the Community Building, 71 Poplar Street. 
Those looking to get involved are invited to stop by any time during fair hours, browse the tables of information provided by the organizations, and speak with representatives who can share more about the volunteer opportunities. Light refreshments will be served.
Organizations that would like to participate in the event are encouraged to contact the Highlands Chamber of Commerce/Visit Highlands.
For more information, call 828-526-5841 or send an email to events@highlandschamber.org.